Skilled Nursing Facilities are facing new challenges as the arrival of Patient Driven Payment Model nears, causing them to wonder how it will affect them. Last month, Lou Ann Brubaker delivered an outstanding presentation titled "Occupancy & Mix in Today's Post-Acute Care" to help prepare nursing facilities for the upcoming changes.
Participants gathered at Rainbow Health & Rehab in Bartlett, TN for a THCA Memphis district meeting, where Lou Ann delivered an informative and engaging presentation. Administrators and directors of nursing looking for helpful tips and information were not disappointed. All who attended left her presentation with a better understanding of how to adapt to the new payment model.
Does your facility have the right data? How are your relationships with MCO? What skills should all your employees have? Where is your admissions team focused? Lou Ann answered our questions, giving attendees an action plan to take back to their respective facilities.
Thank you, Lou Ann, for a wonderful presentation. You are gifted communicator!
To find out more information about how Guardian Pharmacy Midsouth can help you prepare for a Patient Driven Payment Model please email ben.clark@guardianpharmacy.net.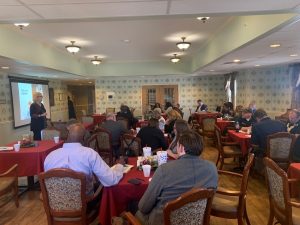 Pictured: Lou Ann Brubaker, President of Brubaker Consulting presenting to Members of THCA Memphis District